Recovery from Dominate Culture Support Group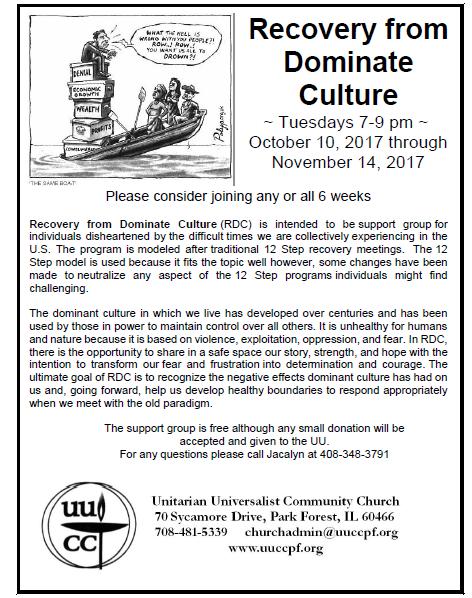 My name is Jackie Tonkel. I live in San Jose, CA but I'm here (in Homewood) for 2 months supporting my mother after she returned from a 6 week rehab stay. I'm a LCSW and have served on 2 peace and social justice centers board of directors in the San Francisco Bay Area. I have co-produced and facilitated multiple Pachamama Alliance, "Awaken the Dreamer Symposium" events at the UU in San Jose, CA along with many other venues. I greatly respect the social justice aspect of the UUs and the good work that gathers community.
Specifically, I have developed with others a support group called "Recovery From Dominate Culture" or (RDC) based on the 12 Step program meetings and am running a group at the Park Forest UU while I'm here in this area. When I leave the Chicago area I'd be thrilled if the group wanted to continue co-led by others.