How I was Introduced to Dances of Universal Peace
18 years ago I found just the right combination of sound, movement, meditation and prayer for me in the Dances of Universal Peace (DUP) which are meditative circle dances introduced in the San Francisco area by Zen scholar and Sufi Master, Samuel Lewis. Sam said, "Eat, pray and dance together." The dances use mantras from all the world faiths. In the beginning, even if a chant was not "my thing," I knew it had meant something significant to a culture for thousands of years. I was introduced to DUP by Ed Malik Dixon who was a gracious, spiritual man with a beautiful voice and love for others. Through my work with Malik, who founded the Park Forest Dance Group with me 15 years ago, I immersed myself in the writings and workshops of Murshid Christe Saddi and Neil Douglas Klotz. Saadi has been my Sufi teacher for the last 10 years. I have deepened my spiritual insight and opened my heart through the dances and my Sufi practices.
The dances are easy to learn and open to all. We join our voices in singing sacred phrases and Divine Names from many spiritual traditions while moving rhythmically to simple circle dances and walking meditations. We use breath to cultivate body awareness, to free the voice and deepen in silence. We invite you to our circle to sing, chant, dance and pray for peace.
Park Forest Dances of Universal Peace are held at:
The Unitarian Universalist Community Church of Park Forest
70 Sycamore Drive
Park Forest, IL 60466
We meet on the 3rd Saturday from 2-4pm.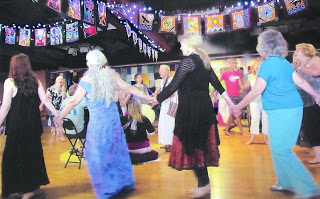 Dates for 2013:
September 21, October 19, November 16, December 21
Dates for 2014:
January 18, February 15, March 15, April 19, May 17, June 21
Directions: Western Ave South to Sycamore Drive, turn left, church is directly to your right.
For more info: Contact the UUCC office at 708-481-5339
~ Pat Segner