Forgiveness Workshop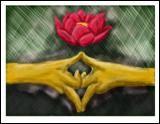 Saturday, June 22nd, 2013, Rev Henrietta Byrd will be leading a workshop on Sacred Communication. Henrietta Byrd is an ordained "New Thought" minister whose focus is in metaphysics or "What is Beyond the Physical."
She writes…."As an entertainment stylist, I have experienced some of the greatest people, and I have traveled some of the most wonderful places in the field of Cosmetology Sciences. My ordination increased my opportunity to work with families that were experiencing the transition of a loved one. As I began to work with these families, my interest in FORGIVENESS increased. The need for people to forgive themselves and other as well as the need to know how to forgive became more and more apparent to me. My ministry became focused on the power of self-forgiveness.
Through transformation workshops, I focus on self-forgiveness. Self-forgiveness is transforming and leads to transformation. Transformation is freedom. Transformation is growth. Transformation is allowing God, the Creator, the Divine Mind, the Absolute, and the Almighty to move in and through you in such a way that your experiences become unlimited.
I regularly use my forgiveness tools that lead me to the realization that I create my own Reality.  This realization has literally set me free.  In the transformation workshops the forgiveness tools are given, explained and the participants' use of them is monitored for weeks.  Forgiveness is a love and practice of mine.  I cherish even more the opportunity of sharing what I've learned with others.  The transformation workshops help me to help others transform their lives by giving them a deeper understanding of how to use the forgiveness tools, and how to use with understanding the principle."
Rev. Byrd is accepting love donations for her workshop. She will be scheduling more of her forgiveness workshops in the future.