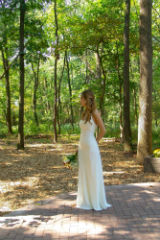 Mature oaks form the canopy of the woods, along with hundreds of other trees. A harmonious blend of forest woodland and Organic Modern architecture offers a welcoming environment for you and your guests.
The outdoor area offers an exquisite natural landscape to complement the indoor amenities. Your event will be enhanced by the sights and sounds of nature, such as dappled sunlight filtering through the trees, leaves rustling in a gentle breeze, and birds chirping. A lively creek and simple footpaths, run through the forest.
Inside the Organic Modern building you'll find clean design and subtle, earth-tone colors, showcasing the simple or complex design theme of your event.
The largest room in the building serves as a sanctuary or ballroom. Its south wall, made completely of glass, looks onto the woods. It also opens to a deck patio and lawn. An optional gazebo is available for weddings or other events. Seating for 100 is modifiable. Banquet tables and padded chairs can be arranged as you like for smaller or larger events, or to allow for a dance floor.
Adjacent to the sanctuary, a gathering room features couches, a fireplace, and round tables with comfortable seating. Total seating for this room is up to 20 people. A wall of doors allows this room to be joined with the sanctuary.
A full kitchen is available, featuring commercial-grade stove, refrigerator/freezer, dish-washer. In addition, it offers a microwave, pots/pans, dishes, cups, flatware, utensils and serving trays.
Side rooms feature multiple bathrooms, including one fully accessible one, and private areas for dressing and storing items. Ample parking is available. All public spaces are handicapped accessible, and the building contains no stairs.
A Place of Special Celebrations:
– Wedding Ceremonies and Receptions
– LGBT Welcoming
– Renewal of Vows
– Memorial Services
– Showers
– Baby naming ceremonies
– Anniversaries
– Graduations & Retirements
– Birthday Parties
– Coming of age ceremonies
– Family reunions
– Concerts
– Victory celebrations
For details and to see a copy of the rental contract, email Diane,  at diane@uuccpf.org, or call (708) 481-5339.
 " Everyone present was so at home in your beautiful building. I could not imagine a more perfect setting for our event."  -Joan