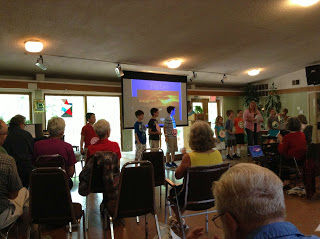 The June 9 (2013) religious education presentation was a hit. From wild beasts pursuing a young damsel, intrepid mountaineers surviving blinding blizzards, and wise seekers sharing with us some of the wisdom of the world's religions, all the children did a terrific job. The Golden Rule is truly a universal concept:  fairness, kindness and respect are the underpinnings of all successful societies. Our first principle, the inherent worth and dignity of all individuals, echoes this truth. I'd also like to repeat my appreciation for all the RE instructors and assistants. Your dedication and energy made the World Religions curriculum a wonderful success for the kids.
After the rigors of rehearsal and performance, we kicked back and had a picnic at Thorn Creek Nature Preserve. As you can see from the pictures, we had some adventures along the trail. We saw a herd of deer, heard and sometimes felt mosquitoes, and smelled wild onions. Our group became separated, so we had tales to tell when we all got back to the picnic area  for our lunch. It was a great way to put an exclamation point on our studies this year. Continue reading →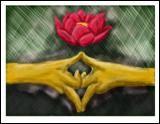 Saturday, June 22nd, 2013, Rev Henrietta Byrd will be leading a workshop on Sacred Communication. Henrietta Byrd is an ordained "New Thought" minister whose focus is in metaphysics or "What is Beyond the Physical."
She writes…."As an entertainment stylist, I have experienced some of the greatest people, and I have traveled some of the most wonderful places in the field of Cosmetology Sciences. My ordination increased my opportunity to work with families that were experiencing the transition of a loved one. As I began to work with these families, my interest in FORGIVENESS increased. The need for people to forgive themselves and other as well as the need to know how to forgive became more and more apparent to me. My ministry became focused on the power of self-forgiveness. Continue reading →
I set foot inside my first UU church in Fall of 2008 and haven't looked back since. I never knew anyone who was a UU or went to a UU church. I only knew that the churches I had grown up in and experienced for last 20 years of my life were no longer vibe-ing with the person I wanted to be and the world I wanted to live in. So, I found myself at my first UU church occurrence in my life and I couldn't help but think of "The Simpsons".
I can't even begin to estimate how much of my life I've spent watching that show, and, to be honest, the results would scare me too much to try. For a show that's entering its 21st season in September 2009, it's still pretty culturally relevant. For those keeping score at home, this year "The Simpsons" will surpass "Gunsmoke" as the longest running American primetime television show. As a student of religion, I find a great understanding and fairness in the religions presented on the show. No one is spared from satire. From the Hindu religion of convenience store owner Apu, Lisa's dabble in Buddhism, stalwart next-door-neighbor/uber-Christian Ned Flanders, even Reverend Lovejoy of the (created for the show) Western Branch of American Reform Presbylutheranism. One of my favorite of the more religious themed episodes is "The Father, The Son and The Holy Guest Star." It features none other than Oscar-nominee Liam Neeson as a Catholic priest. There are so many great little nuggets in that episode, it's worth digging around YouTube for a clip. The writers on "The Simpsons" understand the subtleties of these religions but never took any too seriously that they couldn't find something to poke fun at and the same is true of Unitarian Universalism, most commonly referred to as Unitarian on the show. Continue reading →